What we do
Birmingham Bike Foundry is a worker co-operative. We promote cycling activities and recycle discarded bikes.
We offer cycle maintenance training to members of the public, schools and businesses. We offer workshop repairs, wheel building, and a tool club where you can come along and use our workshop. We source and sell bike parts, both new and recycled and we refurbish donated bikes.
We aim to make a healthy, fun, affordable and environmentally friendly means of transport and leisure available to as many people as we can, however possible!
We believe that cycling is an empowering activity that is part of the solution to Birmingham's transport and health challenges.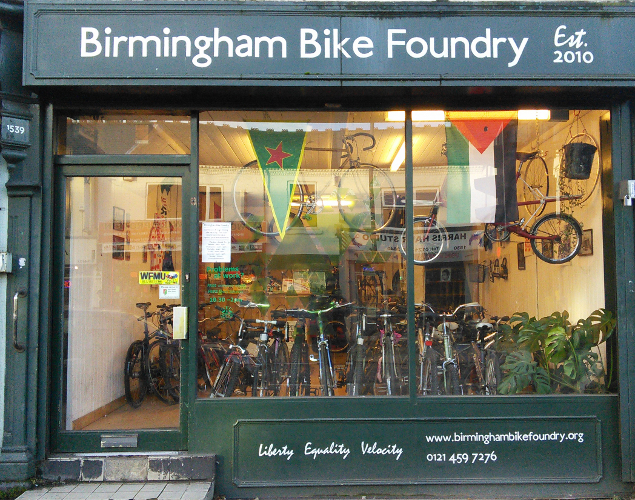 We are a Worker Co-operative
The employees are all members of the co-operative, and have equal ownership of it. In our case everyone acts as directors as well. There are no shareholders, so it cannot be bought out or taken over without the members' consent.
We operate as a worker co-op because we believe in non-hierarchy, collective ownership and useful work. We are responsible for our own work and business sustainability, not dependent on a boss or shareholders, whose bottom line is most likely to be profit, rather than our needs.
Most workers co-ops have a very limited management hierarchy, usually limited to an elected management committee. Many smaller ones have no hierarchy at all and work as collectives; this is how Birmingham Bike Foundry operates.
We make important decisions together and most day-to-day matters get discussed, although each of us uses our own judgement as required. There is a lot of individual trust and autonomy which is empowering and makes work fulfilling. That also means that we trust that any of the others will check with another about any unusual decisions.
We are not just a bike shop offering affordable repairs and training, but provide resources that others can use such as access to meeting room space, supporting the union that represents our members (Industrial Workers of the World), and advice and skill-sharing. We source supplies from other co-ops where possible to help grow the co-operative economy and we are promoting the 'co-operative marque' symbol to identify co-operatively produced goods and services.
We encourage you to use democratically-owned businesses wherever possible and to find out about getting involved in co-operatives yourself.
Radical Routes
Birmingham Bike Foundry is part of Radical Routes, a network of radical co-ops, which are working to change society.
These are the Radical Routes aims & principles.